Update: where are we at right now?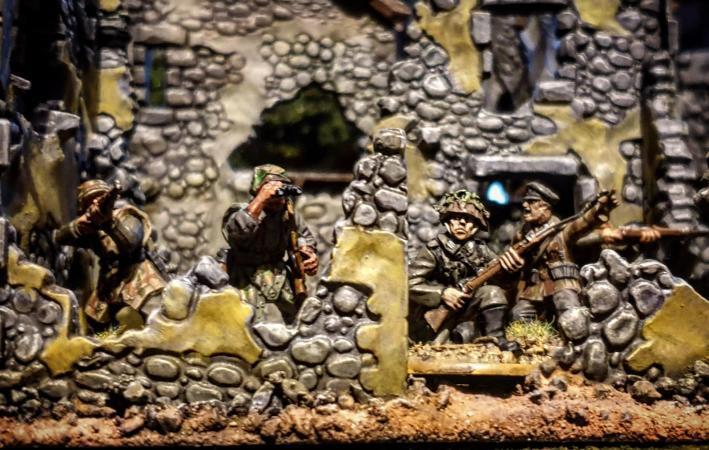 It has been too quiet on this front, I know. So a big sorry for that. Honestly I feel a bit drained by the work on the project and the way algorithms work these days is not very rewarding. It was supposed to be a hobby and to be fun but now turned into some kind of other monster. Maybe the expectations I put on my self are too high.
But enough whining for today, so where are we at right now?

Burst of Fire rules: Burst of Fire is a tactical miniature tabletop wargame played on individual scale. About 20 percent of the rules have been transferred to our website. Right now it is about thinking about a user friendly structure. After that printed rule books will follow.
Marketing on Facebook and Instagram: It has been awfully slow these days. The algorithms clearly do not favor companies or people posting every once in a while. But honestly, that is all I can manage right now.

2D World War 2 miniatures (cut at home): The unit artworks for the British, Germans, Soviets, Japanese, US, French, Polish and Italian units (20 per nation) are 80 percent done. All of the units have to be based anew because during testing it was awfull clear that it is a pain in the lower back to cut circles in 2mm cardboard. Next test will be on 1mm cardboard. I am still aiming to make these available in scales from 6 to 28mm.
Battlemats: There are two battlemats designed as of yet. A jungle and a european themed one. Plan is to make them available printed on fleece blankets.

2D terrain: For the european themed battlemat there are already 50+ different 2D terrain pieces designed. Test prints on pvc have not been ideal so far. Now I am thinking 1mm cardboard or fleece blankets, both cut at home.
Gamefound or Kickstarter: Clearly I can not wrap my head around this just yet. But it might be an option for the future.
That's it for now, enjoy your day,
best wishes,
Chris